Sarah Elgeti Quintet/Quartet
Sarah Elgeti : Saxophones, Flute, Clarinet, Bass clarinet
Nils Raae/ Morten Schantz : Keys, Harmonica
Anders Fjeldsted/ Kristor Brødsgaard : Bass
Henrik Holst / Andreas Fryland : Drums
(Marianne Markmann-Eriksen : Alto-/Barytone saxophones)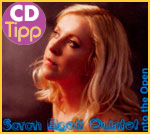 "Into The Open"
MELODIVA CD Tipp Mai 2012
Die gebürtige (ost-)deutsche Vollblutmusikerin Sarah Elgeti stellt mit "Into The Open" das Debütalbum ihres Quintetts vor, das nunmehr seit 5 Jahren besteht.
Herausragendes Merkmal ihrer Musik sind die verschiedenen Kombinationen verschiedener Blasinstrumente: klassisch an Querflöte und Klarinette ausgebildet, spielt sie in ihrer Jazz-Formation Flöte, Tenor- und Sopransaxofon und liefert sich mit der Alt- und Baritonsaxofonistin Marianne Markmann-Eriksen so manches lyrisches Zwiegespräch. Nebenbei spielt sie Percussion und zeichnet für sämtliche Kompositionen und Arrangements verantwortlich. Und diese sind alles andere als langweilig: von verträumten Balladen über groovy Latin bis zu Bebop-inspirierten Swingtiteln, ungeraden Taktarten und Funk. "Into The Open" bringt im wahrsten Sinne frischen Jazz ans Licht.
Label: Your Favourite Jazz
CD, 2012, 12 Tracks
Mane Stelzer
26.05.2012
---